Tim Allen he returns to play the role of Scott Calvin, or rather, of Santa Claus and with him the old protagonists of the previous films return, but also some new faces that enrich the atmosphere with magic.
Disney+ embarked on a nostalgia operation through a sequel series of the film trilogy that from 1994 to 2006 cheered the countdown to Christmas Eve, to one of the most awaited days of the year. Usually these projects end up being "specks" or caricatures of the original product, but this is not the case.
So let's see what impressed us and what disappointed us New Santa Clause Wanted.
Plot New Santa Clause Wanted
Scott Calvin is now close to turning 65 and is starting to realize that he no longer has the physical (but also mental) shape to handle the pressure behind the role of Santa Claus. Supported by his family, he thus begins to look for a replacement, suitable for such an important position. There is certainly no shortage of candidates, but you have to find the perfect Santa Claus so as not to disappoint any child on Christmas night, but also for elves as demanding as those of the North Pole. And while Charlie has a new life and no longer wants to replace his father, who will be the perfect person for this task?
Meanwhile, the family begins to digest the news and pack their bags for what will be a new adventure: a normal life south of the Pole. Will the Calvins be able to adapt to the routine of ordinary people?
Cast
As already mentioned at the beginning of this article, to make a nostalgia operation work, you have to start from the faces that made the original product famous. So let's find Tim Allen in her famous role, but Mrs. Claus also returns played by Elizabeth Mitchell; the couple, at the North Pole started a family: the young Buddy (played by Austin Kane) and her younger sister Sandra (Elizabeth Allen-Dick).
During the episodes there will also be room for some welcome returns which, however, do not seem appropriate to spoil you by spoiling the names.
Review
Traditions nowadays seem to become more and more difficult to respect; the world behind us runs fast and very often we lose sight of what really matters. From these bases the story of The Santa Clauses (this is the original title): the lack of magic in the world.
The world is no longer what it used to be, children don't dream, they are often distracted and with their imagination diminishing, even the greatest emblem of magic, Santa Claus, begins to lose his powers. Tiredness comes into play, a life sacrificed for the world and never a Christmas spent with your children, to make everyone else in the world happy; so Scott realizes that the time has come to pass the baton and reserve some time for his children, eternally in the background.
Do you think it's such an easy task? You try to find
I'm a man willing to sacrifice everything he has to fulfill the wishes of others.
Yet, when everything seems so difficult, someone is found; someone unexpected seems to be just the right person, in fact, already in his daily life he manages a delivery company: the perfect person… or maybe not.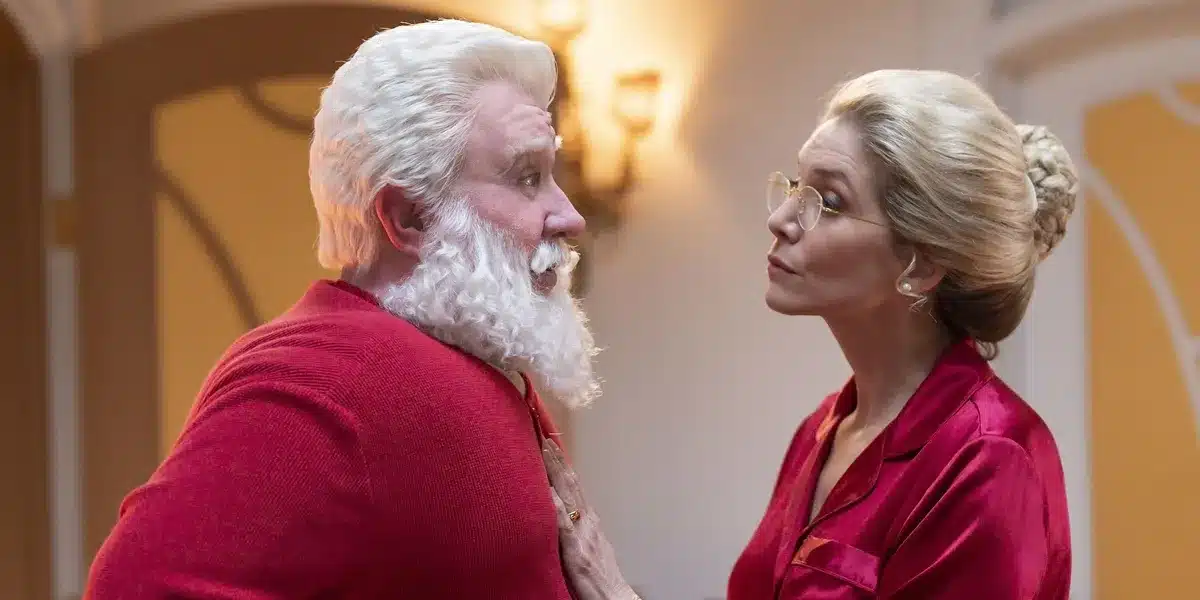 Six episodes lasting about 30 minutes each, which focus attention on the importance of family, loved ones and the magic of Christmas, in what we would like to call "a perfect nostalgia operation".
Clearly we are not dealing with a masterful product or without any "hole", but at Christmas we are all better and especially if we refer to that magical big man dressed in red who descends into our fireplaces, we can also put a patch. No attempt is made to revolutionize an already functional story of him, no exaggerated directorial choices and even the North Pole is exactly what we all remembered from the films. The only thing that has found a way to expand is the "Snowball Room", perhaps because there are many more of us in the world today, consequently our memories need much more space than they did 20 years ago. What it tries to do Jack Burdittcreator of the series, is a journey into our happy moments, without attempting serial upheavals or innovation.
It is a product suitable for the whole family, and perhaps this is exactly how it should be enjoyed (especially now that the episodes are all available on the platform), because perhaps there alone in front of our TV we would be more inclined to notice the little things that clash with the narrative. Throughout the episodes there are many references to the trilogy of the early 2000s, recalled with flashbacks, jokes and some faces that will surely be familiar to you.
Conclusions
Disney + with New Santa Clause Wanted does not aim to experiment, but relies on Scott's character to rebuild the magic that has disappeared in many of us and probably chooses just the right person to do it. Who better than Santa Claus to go back to dreaming and getting excited about the little things?
We therefore feel like promoting the new show on the platform, because the children within us have had the opportunity to smile again, recalling their childhood and there is nothing more beautiful than making the child in us happy, especially at Christmas.
Merry Christmas from MovieBlog and always believe in magic, even when it seems impossible.
Source: https://www.movieblog.it/nuovo-santa-clause-cercasi-loperazione-nostalgia-che-funziona/?utm_source=rss&utm_medium=rss&utm_campaign=nuovo-santa-clause-cercasi-loperazione-nostalgia-che-funziona